| | |
| --- | --- |
| Is Kijiji Down Right Now?  | |
Having some trouble connecting to Kijiji, loading specific pages, or completing certain actions on the app or desktop and mobile browser? Take a look at the next steps listed below to solve the issue!
 
Why is Kijiji not working?
 
The issue:
If you came across an error message on Kijiji.ca on your desktop or mobile browser (like this example): 




Or something like this on the Kijiji app: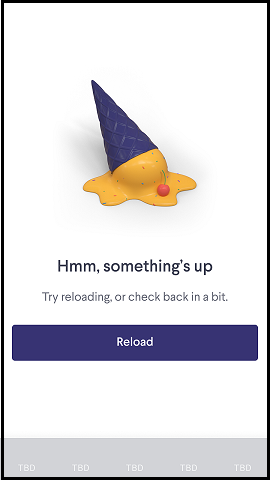 …It means you don't have access to the page. 

This could happen for a variety of reasons. Some of these reasons being:
The site could be down
The page has been moved
The page no longer exists

How to solve the issue:

Refresh the page or head to a different category to keep searching for what you were trying to find.
 

The issue:
Hit a roadblock when it comes to logging in, posting, or navigating Kijiji on your desktop or mobile browser? Try clearing your cookies! (The Kijiji kind, not the chocolate chip kind 🍪.)

How to solve the issue:
Clear Kijiji cookies based on the browser you use by following step-by-step instructions here.

Still running into issues?
We're happy to help you get to the bottom of it — head this way to our Help Desk contact form to let us know the issue you're trying to solve.
 

The issue:
Having issues with the Kijiji app? There may be a few reasons why it's acting up.

How to solve the issue:
Try this!
Make sure that you're using the most recent version of the Kijiji app. To do so, head to the Google Play Store or the Apple Store. Search the Kijiji app in the store's search bar and once you land on Kijiji's profile page, the button at the top will either say, "Update Available" or "Open". If it says "Open", you're all good! If it says "Update Available", simply click the button and you should get upgraded to the latest version.
Still having issues with the app? Try deleting it and re-installing it. 
That didn't work either? Let us know by contacting one of our customer support team members here — we want to make sure your experience is Ki-jenius.
Why are my Kijijij messages not working?
  The issue:
If you're not receiving messages either to your email or to the "My Messages" section in your Kijiji account, there are different ways to solve this based on if you're using Web, iOS, or Android. 

How to solve the issue:
Take a look at this article to understand how to receive your replies based on your operating system.
 
The issue:
If you are having trouble replying to an ad, there could be a few reasons why:
You might be in violation of Kijiji policies, or your replies appear to be spam.
If you are replying from outside of Canada, Kijiji will not allow your message to be sent as Kijiji is only available in Canada.
Using older internet browsers which may be incompatible with certain aspects of Kijiji.

How to solve the issue:
Take a look at these options:
Re-word your reply and make sure that it meets Kijiji's Site Policies and Code of Conduct.
Are you in Canada? Make sure you're not using a VPN.
Make sure you're using the most current version of your browser. If you are and you're still unable to send replies, try another browser to log into Kijiji and send your reply. 
Contact us directly
Did you go through all these steps and are still having issues? Contact us here. Our customer support team is here to help!