A Bump Up provides a quick, easy refresh for your ad when replies have started to go stale. When you purchase a Bump Up, the posting date of your ad is reset. This helps move your ad higher in the search results. If buyers are sorting by newest first, your ad will be at the top of their search results until newer ads are posted or Bumped Up.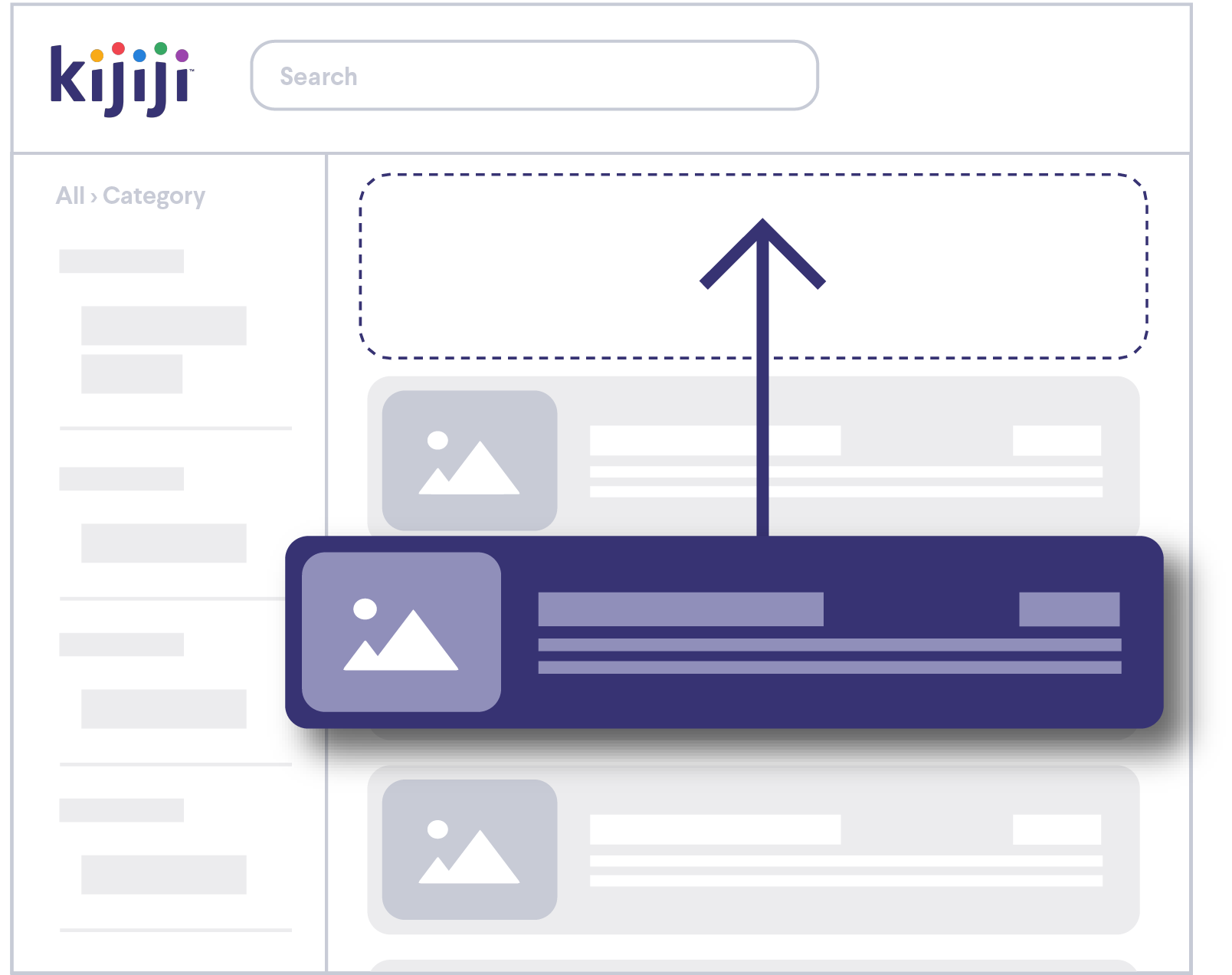 Note :
The Bump Up feature will reset the post date of your ad however, it won't extend the life of your ad.
Bump Ups can be purchased for ads in all categories except for those posted in Events and Garage Sales, as these categories are sorted by the event date, not by the posting date of the ad.
Recurring Bump Up
Let us do the work for you by automating your Bump Ups! Since your ad will get more exposure when it's higher in the listings, it's only logical to keep it there as often as possible. Of course, you can always Bump Up your ad manually anytime you choose, but if you'd like to post your ad and then forget about it, we can Bump it up automatically every 3 days for you to prevent It from being less visible in the listings.
How does it work?
| | |
| --- | --- |
| 1 | Sign in to your Kijiji account, and select My Ads. |
| | |
| --- | --- |
| 2 | In the Active tab, go to the ad you wish to Bump Up and click on Get More Views. |
| | |
| --- | --- |
| 3 | A menu with all features will unfurl. You can choose 1, 3, 5 or 10 Bump Ups for that specific ad by clicking on the + symbol to reveal the different Bump Up options. If you choose more than 1, the remaining Bump Ups will be applied to your ad every 3 days until they're all used. |
Note: If you'd like to Bump Up your ad before the 3-day interval is up, you can still do that manually by selecting 1 Bump Up, and it won't affect the others you've purchased.
To learn how Bump Ups purchased in the Cars & Trucks and Classic Cars category apply to Kijiji Autos, read our Inline Listings article.